We celebrated a birthday around these parts. Jim is officially an old man and you better believe that I reminded him of this. Poor guy had to travel for work on is b-day but he made it home in time for a home cooked dinner. I decided to run with the old man theme since there are only several weeks each year that he is older than me.
I also decided at the last minute to make little dinner menus. Slice a wine cork and cut off the back and voila..you have a menu holder. I lit every candle that we own and we enjoyed a nice little romantic dinner in.
Oh and I tried out one of the recipes I learned at the last Sonoma cooking class. Super easy and super yummy Fingerling Truffle Potatoes. I will be sharing the recipe. soon. Anyone else as obsessed with truffle oil as I am?? Loveeee it!
I was given strict orders not to make any sugary and unhealthy cupcakes or cakes. (what a party pooper!)So...as I was scavenging Whole Food for a healthy dessert I discovered these premade-individually sized sticky toffee pudding!! We intitially discovered sticky toffee pudding during our honeymoon in the Cayman Islands and basically ate this every night. We've yet to have it since. I was so excited to find these and no..they are not healthy but I couldn't resist. Hubs forgave me for not exactly following the rules and we devoured them. They were so worth it! They look quite fancy too and all you do is warm them up in the oven and then overturn them onto a plate! Find them
here.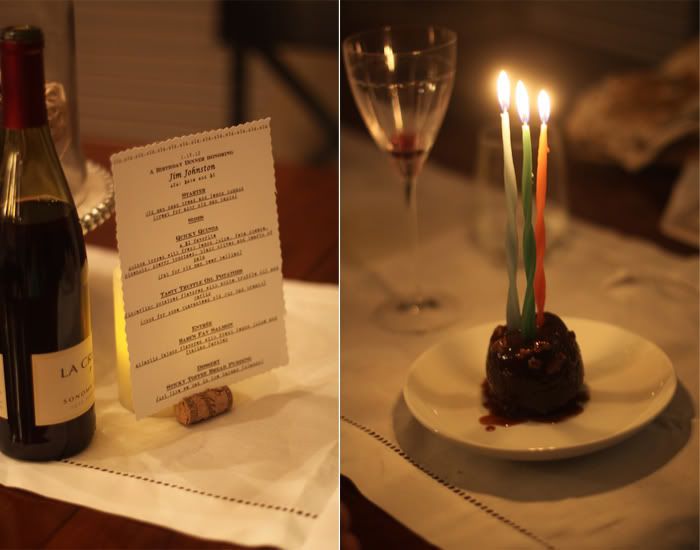 Happy birthday hubs! You make me one happy girl!